We have 28997 members
Who have access to
2759 Agents
1064 Football Clubs

Take our poll
FAQs
Q: Are there any countries in which you do not operate?

A: We are best placed to assist players in Europe, the Americas, Australia and various other territories, but it is difficult for us to operate in countries currently affected by conflict. Please note that we would also discourage registrations from non-professional players in western African countries (most notably Nigeria and Ghana) as we receive an overwhelming number of applications from this area that we simply cannot assist on an in-depth basis unless you are already playing at a top level and possess both the talent and documentation/international experience to be able to play and work in the UK.
View All FAQs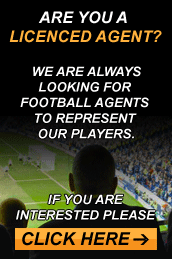 How can I get a Football Trial with My First Agent?
By submitting your Football CV to My First Agent you are providing yourself with opportunity. If you are successful in finding a Football Agent that's right for you, they will find the best chances for you to make your way up the career ladder, namely by securing your place in Football Trials. Most players are selected for trials through scouts watching amateur games, but it's not easy to know when or where this will happen, and you may well have been monitored by a scout already, unaware and not on top form. With a football agent it is easier to skip this process and deal with a club directly as they often have connections with professional clubs and their opinions are valued (and as such their belief in you as a player).
As you are probably aware, if you are put on Trial with a professional club and prove yourself as a valuable player then it is very likely you will earn a place in their squad. It may take you a few times at different trial matches before you are accepted, but the more clubs you are seen by the higher your chances of becoming a professional.
Click Here to Sign up, submit your Football CV and take the next step to Go Pro.