We have 27816 members
Who have access to
2759 Agents
1064 Football Clubs

Take our poll
FAQs
Q: Do My First Agent deal with other sports?

A: Currently, MyFirstAgent deal with footballers who are based in, or want to play football in England. We do not deal with the American version of football.
View All FAQs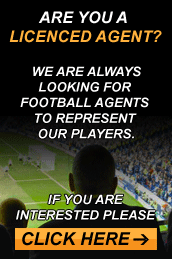 Are you a Licensed Football Agent?
We are always looking for licensed football agents to represent our players. If you are interested please sign-up as an agent here.
Please note: We only work with licensed football agents.
About Football Agents