We have 29841 members
Who have access to
2759 Agents
1064 Football Clubs

Take our poll
FAQs
Q: If I select 'all English agents', how many agents will receive my CV?

A: Currently, we have 505 agents who will receive your CV and work with you to maximise the possibility of you finding a professional club.
View All FAQs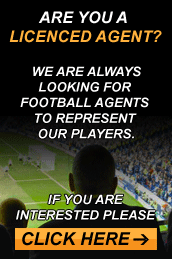 Are you a Licensed Football Agent?
We are always looking for licensed football agents to represent our players. If you are interested please sign-up as an agent here.
Please note: We only work with licensed football agents.
About Football Agents