We have 28103 members
Who have access to
2759 Agents
1064 Football Clubs

Take our poll
FAQs
Q: How do I pay?

A: You can only pay when you have completed your CV. From this stage, there is an option where you select where you wish the CV to be sent. When this has been completed, the payment facility will be at the bottom of the page, and it is easy to follow.
View All FAQs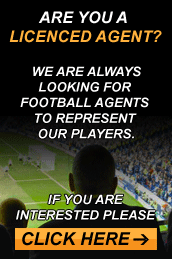 Are you a Licensed Football Agent?
We are always looking for licensed football agents to represent our players. If you are interested please sign-up as an agent here.
Please note: We only work with licensed football agents.
About Football Agents