We have 28997 members
Who have access to
2759 Agents
1064 Football Clubs

Take our poll
FAQs
Q: How do I become the best of my age group?

A: Playing football at any professional level requires hard work, if signing a professional contract is the young players aim, then the hard work will be worthwhile. Hard work includes working on different parts of your game game, such as fitness, technique, tactical awareness and other aspects of the game which aren?t your strongest in order to become a better player and stand out.
View All FAQs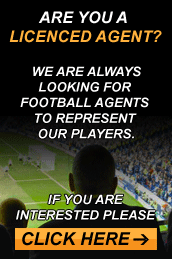 Are you a Licensed Football Agent?
We are always looking for licensed football agents to represent our players. If you are interested please sign-up as an agent here.
Please note: We only work with licensed football agents.
About Football Agents