We have 28136 members
Who have access to
2759 Agents
1064 Football Clubs

Take our poll
FAQs
Q: If I select 'all English agents', how many agents will receive my CV?

A: Currently, we have 505 agents who will receive your CV and work with you to maximise the possibility of you finding a professional club.
View All FAQs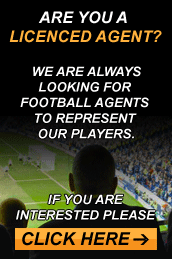 Which other teams are going to get relegated from the Premier League?
| | |
| --- | --- |
| Blackburn Rovers | 68% |
| Bolton Wanderers | 16% |
| QPR | 9% |
| Aston Villa | 4% |
| Wigan Athletic | 3% |
Previous Polls