We have 29841 members
Who have access to
2759 Agents
1064 Football Clubs

Take our poll
FAQs
Q: Are MyFirstAgent interested in joining other companies in partnership?

A: MyFirstAgent receives many business opportunities and we are interested in these. Despite this, due to the volume of emails we receive, we are unable to reply to each one separately.
View All FAQs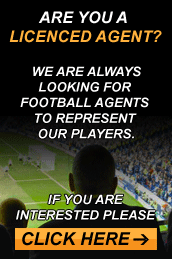 Please register and update your CV Details. You can then contact us via the contact form in the members area.
Details marked * are required