We have 30631 members
Who have access to
2759 Agents
1064 Football Clubs


Take our poll
FAQs
Q: People say that I am too small for football?

A: For any football player to be in the game, especially at the youth level, you do not have to be the biggest, strongest, or fastest to be successful. At any youth level many players have not fully developed and still have time to grow in height. On the other hand mentally a positive attitude goes a long way in helping not only your game, but your teammates as well. For any young footballers there are other aspects which have to be monitored in order to succeed.
View All FAQs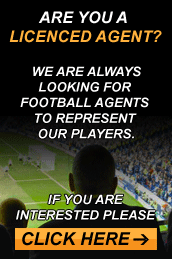 Please register and update your CV Details. You can then contact us via the contact form in the members area.
Details marked * are required