We have 27897 members
Who have access to
2759 Agents
1064 Football Clubs

Take our poll
FAQs
Q: How do I pay?

A: You can only pay when you have completed your CV. From this stage, there is an option where you select where you wish the CV to be sent. When this has been completed, the payment facility will be at the bottom of the page, and it is easy to follow.
View All FAQs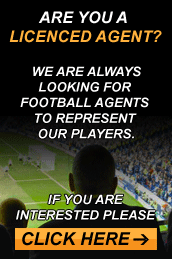 About us
My First Agent is a website that allows footballers of all ages to reach their potential.
We provide a means to make a professional online CV showing potential clubs and agents what you are capable of.
Join today and start creating your Football CV online.