We have 28374 members
Who have access to
2759 Agents
1064 Football Clubs

Take our poll
FAQs
Q: If I select 'all English agents', how many agents will receive my CV?

A: Currently, we have 505 agents who will receive your CV and work with you to maximise the possibility of you finding a professional club.
View All FAQs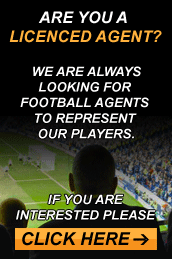 About us
My First Agent is a website that allows footballers of all ages to reach their potential.
We provide a means to make a professional online CV showing potential clubs and agents what you are capable of.
Join today and start creating your Football CV online.