We have 28997 members
Who have access to
2759 Agents
1064 Football Clubs

Take our poll
FAQs
Q: What do I do if I do not have the correct method of payment?

A: Currently, MyFirstAgent offers a wide variety of payment methods which we feel are accessible. Please contact us if you can not comply with these, and we will do our upmost to arrange a suitable transaction.
View All FAQs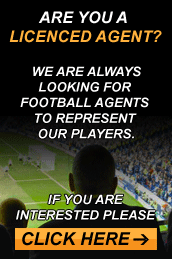 Contact My First Agent
Step 1
Please read through our frequently asked questions before contacting us.
Step 2
Please Sign-up here to create your CV Online (This must be complete before moving on to step 3)
Step 3
Use this form to send any comments or questions you have if you cannot find your answer in the FAQ's
*Required